This is a little guide on how to get an awesome parser that will allow you to see how much damage output, damage received, healing out, and healing received. This is a great program to use for raids to see how well everyone is playing, however, this will not be used to make anyone feel bad about their DPS, heals or tanking abilities. So no getting mad about the way someone is playing with their class. This will be used to help people in understanding their build. This doohickie is fully supported and recommended by Bioware so you cannot get banned from this.
Step 1
-Enable your combat logging to file.
This is done via SWTOR in your preferences as shown below. (sorry for the quality, i used this image from a youtube video as SWTOR was in maintenance)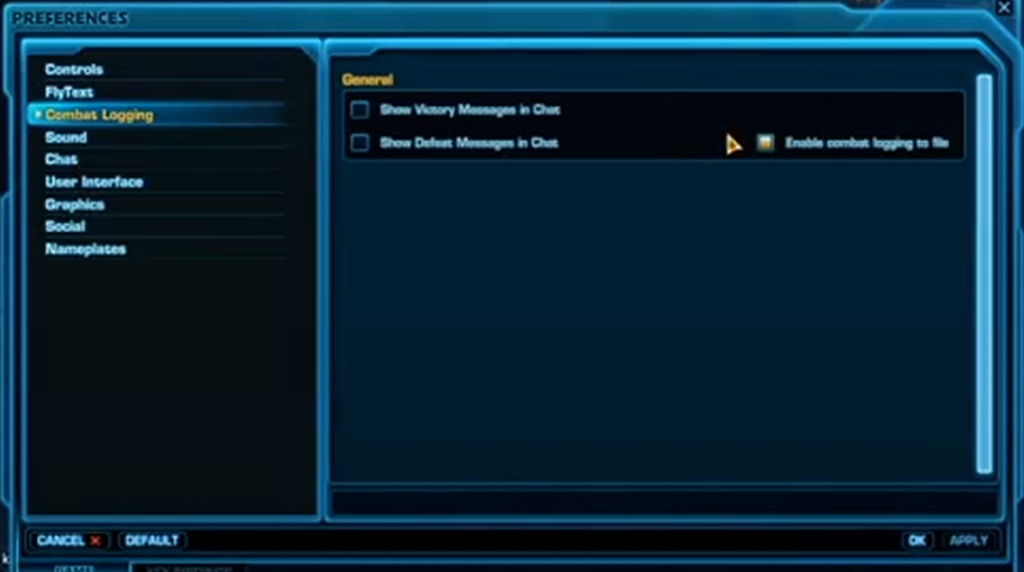 Step 2
-Download MOX Parser from.
http://memoriesofxendor.com/parser/desktop/
Make sure when you download this you know where you downloaded it to as you will need to access this often.
Step 3
-Install MOX Parser
This is done by simple double clicking the "Run Parser" Application found in the MOXParser.zip file that you downloaded. Which will extract the program.
Step 4
-Opening and using MOXParser
1. In the MOXParser folder that you just extracted find MOXDesktopParser and double click on it.
2. You should get a program resembling this.
3. Click on the log location and find your combat logs by navigated through some files (As shown below) (IT ONLY WORKS THIS WAY; My Computer/ C: Drive (or whichever you use)/ Users/ Whichever user you are on/ My Documents/ Star Wars - The Old Republic/ then press ok))
Step 5
-Starting the Parser up.
You can either start solo which could be useful when you are running solo and want to compare previous encounters.
Or you can Synch to raid. This is what we will be using and you will be given a Raid key that you will obvious input to the Raid Key: section.
The key only partains to the leader which will be someone that already has knowlege on this.
You will not see any kind of confirmation or any type of acknowledgement that this is running or not until you start fighting.
Hope you enjoy this program and if you have any questions please post here so others can see how these problems are solved. If you don't feel comfortable with that send me a tell on SWTOR on "Walhberg" or PM me here.
Thanks!